Investor Unconference Podcast, A Part of the African Grand Summit 2021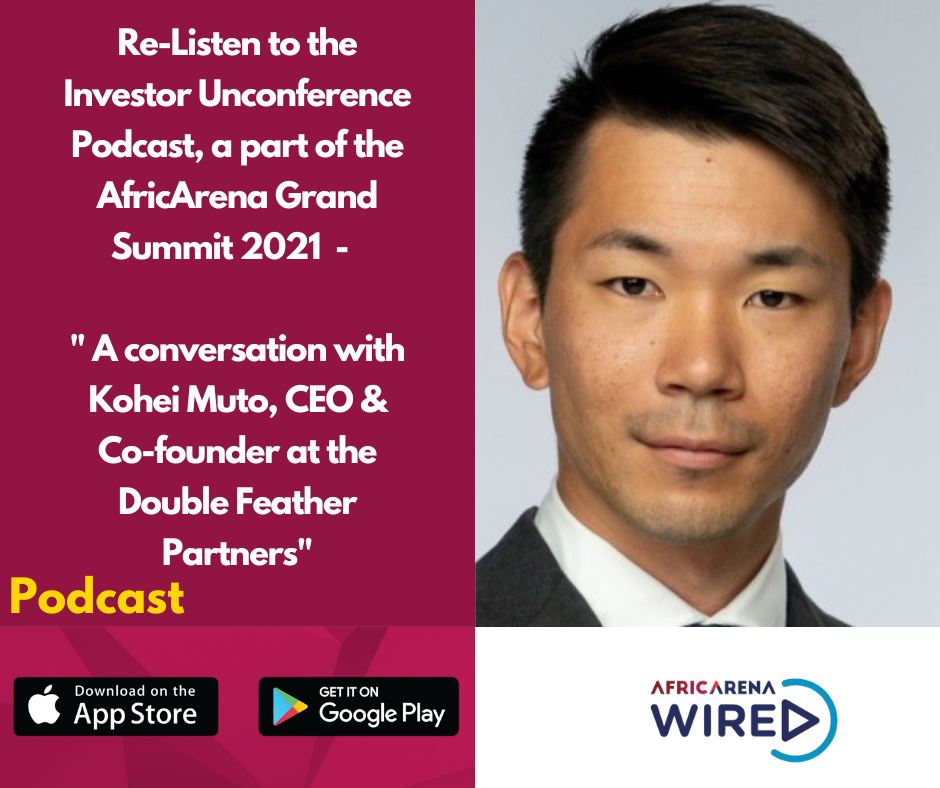 After the "Unconference" organized by AfricArena, the CEO of Double Feather Partners, Kohei Muto was interviewed briefly by Patrick Craig, the official host of the AfricArena Podcast. The session covering key questions was duly responded to by the CEO, as regards the impacts made by DFP in the African Startup Ecosystem.
For starters, Mr. Muto lightly stated the activities of DFP and how much growth has been recorded with time. According to him, we carry out venture capital (VC) investment for early-stage companies; run the Acceleration Programs together with the Japanese government, JICA (having begun from Kenya, and currently expanding to South Africa and to North Africa); provide advisory and financial services; as well as providing very comprehensive one-stop support for entrepreneurs and startups in Africa. In response to the question of what excites DFP about Africa, Mr. Muto duly stated how beautiful its complexity and diversity is via its size and number of countries and the diversity in their legal tenders. Similarly, interesting Africa's factor to seek new types of innovations, its microeconomic growth, as well as its emerging markets is attractive features.
For what new thing he learned from the African ecosystem in the just concluded Conference, Muto emphasized how he saw a newer dimension of multilateral cooperation opportunities, as he understood clearly that the local investors understand soundly the undergrounds and local risks of the market structure and can also provide real value to the big investors (like DFP). In the same vein, he saw an opportunity for strategic cooperation partnerships with these local investors via incubation programs. To buttress, he categorically stated how Africa, (despite its diverse cultures that may want to affect the nature of acceptance) still finds a way to open itself to collaborations via high goal driven Startups, in a bid to seek potential upgrowth, expansions, and make impacts even in the developed markets. 
Finally, his stance on proper networking was clear in his words "Networking helps focus on strategies", as he, through DFP, projects to leverage all levels of networks on mutual grounds, to strive more and easier as a team in the Ecosystem.


Listen on:
AfricArena Podcasts - https://bit.ly/3zzPCG2
Apple Podcasts - https://apple.co/3ykkvOa
Spotify - https://spoti.fi/3NNWN2y