The State of African Startup: A half year Report 2023 
The global economy has been sluggishly combatting with high inflation rates, and challenging global and domestic financial conditions. However, Africa has been remarkably resilient. Overall, Africa retains a high growth trajectory with an average real GDP growth rate projected to grow by 4% in 2023/2024 relatively above the global growth rate of 3.4%. Africa, with a population of 1 billion people, half of whom will be under 25 years old by 2050, is a diverse continent offering human and natural resources that have the potential to yield inclusive growth and eradicate poverty in the region according to the World Bank, (2023). With the world's largest free trade area taking effect and a 1.2-billion-person market, the continent is creating an entirely new development path, harnessing the potential of its resources and people.
Over the past two decades, Africa has seen massive improvements in internet access and mobile penetration enhancing connectivity at 22% of the total population in Sub-Saharan Africa using mobile internet (and 40% of adults over 18 years of age) according to GSMA report 2022. This adoption has led to the emergence of a new wave of growth-oriented technology startups, building innovative and home-grown digital technologies. Digital platforms are increasingly disrupting Africa's informal services, financial, retail, climate, and agricultural sectors. These factors are seen as the key push to local and international investors – primarily venture capital (VC) firms, big tech and development finance institutions to increasingly recognize the potential of African startups and massively increased their early-stage investment in them in exchange for an ownership stake.
Despite the African startup ecosystem being relatively young and smaller in comparison to more established ones like the US, it is rapidly becoming one of the world's fastest-growing startup ecosystems, and Tech startups in Africa are particularly noteworthy for their rapid expansion according to the Financial Times (2022). The continent has seen the rise of seven African tech startups that have achieved "unicorn" status, meaning they have been valued at over USD 1 billion. The first African tech unicorn was Jumia, a pan-African e-commerce startup often called the "Amazon of Africa." It made its public debut on the New York Stock Exchange in April 2019. Another significant player is the Nigerian fintech company, Flutterwave, which reached a valuation of USD 3 billion, becoming Africa's most valuable startup.
Additionally, multinational corporations are increasingly showing interest in African startups, leading to major takeovers. In 2020, American financial services firm Stripe acquired Nigerian fintech company Paystack for USD 200 million. Furthermore, the British international payments company World Remit acquired SendWave, a cross-border payments company focused on Africa, for USD 500 million. Overall, the African startup landscape is witnessing significant growth and attracting attention from investors and multinational corporations, signaling a promising future for the continent's tech entrepreneurship. Some challenges facing the African startup ecosystem include a lack of access to talent estimated at 70%, capital to grow their businesses, a low proportion of female-founded startups reported in this first half of 2023 is only 30%, and investors based in Africa accounted for 29% of total investments. To overcome these challenges, there is a need moving forward for African business leaders and entrepreneurs to collaborate harmoniously with governments, venture capitalists, incubators, and startup accelerators and address the shortfalls.
Top Five Countries by Funding​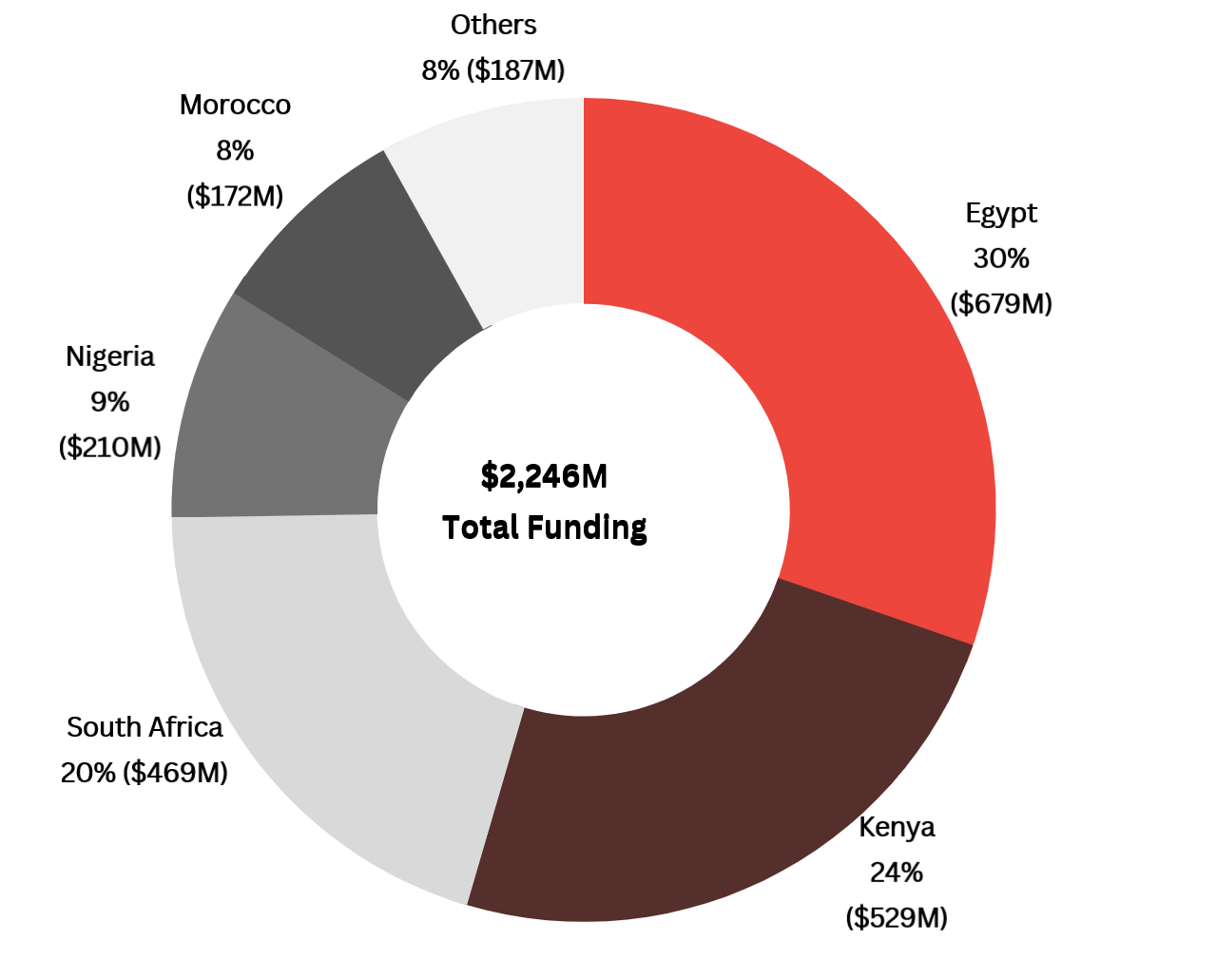 Source: DFP Internal Records 2023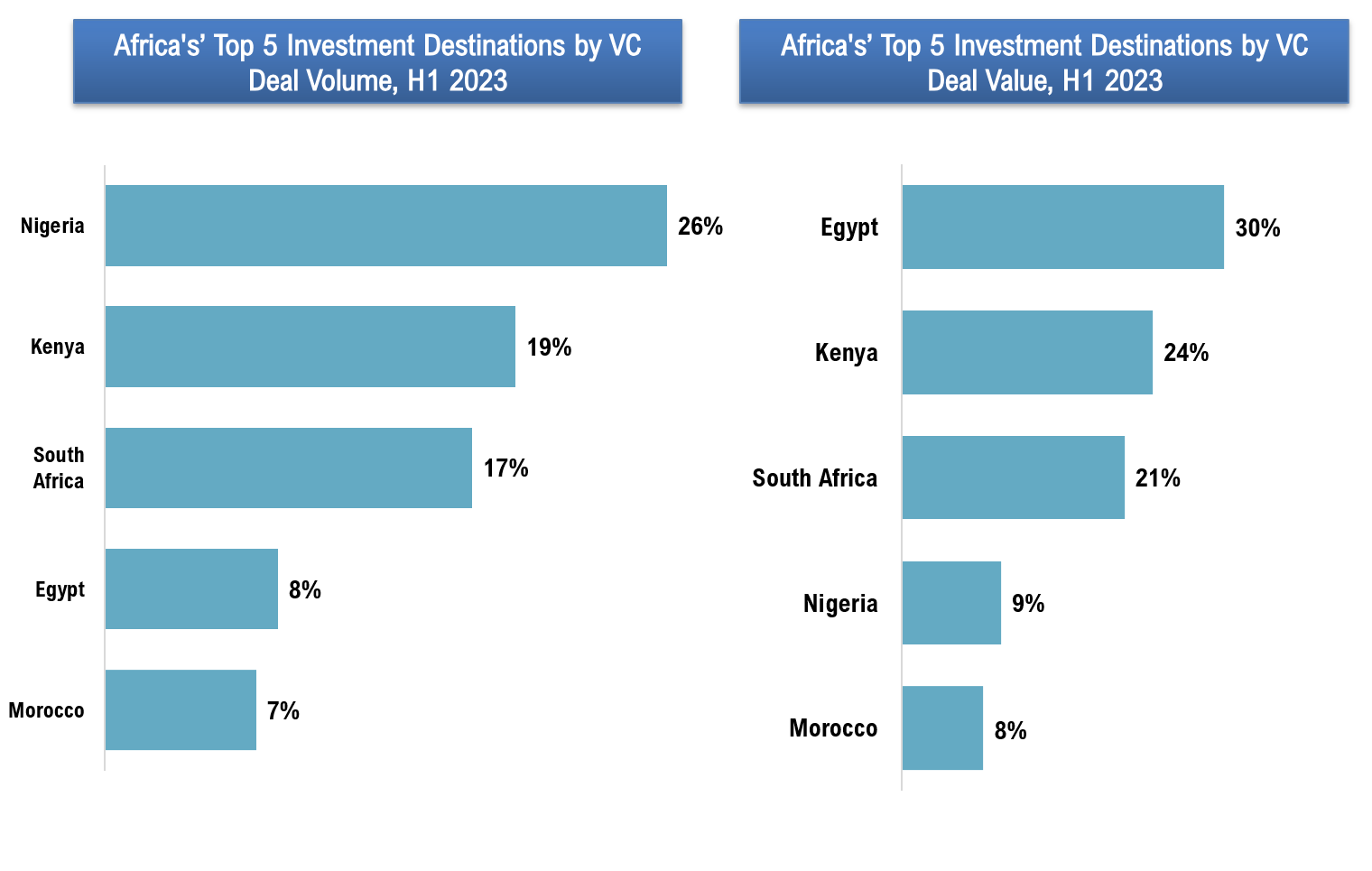 Source: DFP Internal Records 2023
The African tech startup outlook has slowed down with innovative tech venture funding declining by 29% to $2.2 billion from $3.1 billion as shown in the figure above, this is happening at a same period in 2022 though with some promising growth, has continued to attract more investors across the globe. A total of 357 African tech startups raised funding in the first half of 2023, with Egypt leading the way. The top 5 countries leading the funding in Africa are:
Egypt: Egypt now Africa's largest economy after Nigeria, according to the new data from IMF, has witnessed a lot of traction in venture funding for the last 6 months taking first place in VC deal value raising a total of US$ 679,090,000 a 30% of the overall region's funding mainly attributed by the $400 million MNT-Halan and Kazyon $165 million. However, 8% (28 startups) of the funded ventures in the region. From e-commerce to edtech and fintech, Egypt's start-ups are emerging as the preferred destination for global and regional investment. Egypt remains to be watched in these scenes as the Government moves to establish a unit to propose start-up growth regulations.​
Kenya: Kenya reported decent growth in the startup ecosystem in the period under review taking the second position among the top markets leading the funding in Africa raising a total of US$ 528,724,500 a 26% of the total funding from 66 startups (19% total funded ventures), mainly attributed by $255 million M-Kopa and $130 million Sun King venture debt financing. The Kenyan government has recently announced some compelling policies around no tariff use in support of cleantech and renewable energy sectors seen as the driving force among the recent funding on the energy-related sectors.​
South Africa: South Africa is home to one of most developed VC networks and the oldest start-up incubator on the continent and the most advanced startup ecosystem has seen significant low momentum mainly attributed to the crippling power cuts, volatile commodity prices, and challenging external environment which have contributed to the country's weak growth performance. Taking the third place in this first half attracting US$ 468,830,100 which is 21% of the total Africa's funding from 60 startups (17% of the total funded ventures). Notable startups contributing significantly include Plante42 ($85 million), Tyme Bank ($77.8 million), and gaming startup Carry1st ($27 million).​
Nigeria: With over 93 startups and 26 % of Africa's funded ventures raising a total of US$ 209,656,368 (9% of the continent's total). Nigeria has the most tech startups in Africa but declined in the value with slowing of funding in Africa, with early- and growth-stage funds retracting their steps due to persisting macroeconomic issues facing the economy, tightening monetary policies, hikes in interest rates, etc. VCs have been cautious of the startup's operating environment thus issuing smaller funding checks than before.​
Morocco: Had a record-breaking period of funding this 1st half, but their overall share of funding is still small compared to the "big four" of Egypt, Kenya, Nigeria, and South Africa. Out of 25 startups Morocco raised US$ 172,176,950 contributed mainly by three mega deals; Laprophan $72 million, Oncorad groupe $45.5 million, and Promamec $37.9 million.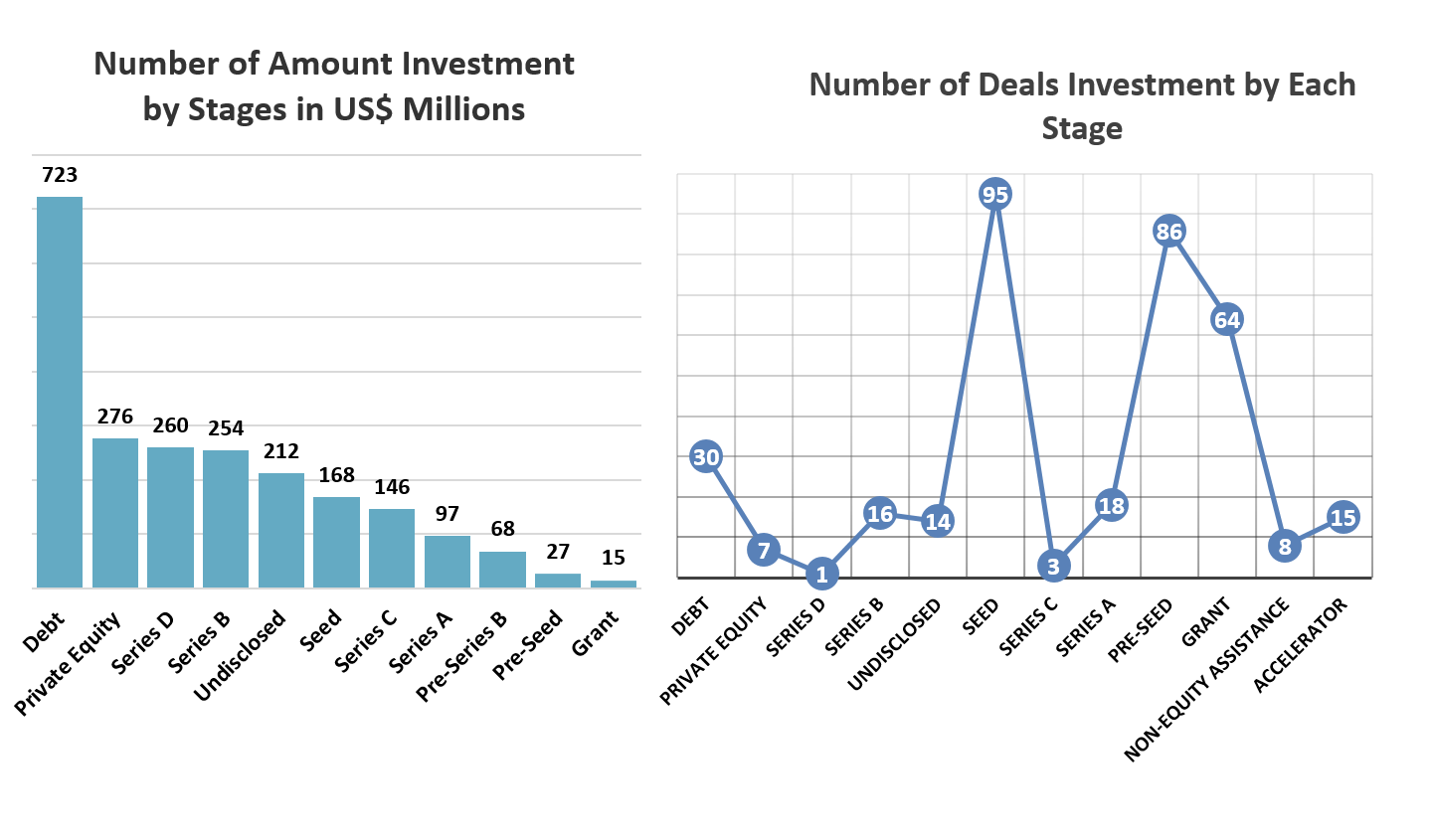 Source: DFP Internal Records 2023
Early-Stage Funding:​
In a recurring trend, the seed stage assumed the largest proportion of venture deal flow volumes in Africa for the first half of the year 2023 recording 95 deals a 27% of the total deals and a value of $167,854,500. Pre-Seed followed closely with 86 deals (24% of total deals) with a total value of $ 26,549,850 due to the small nature of stage checks. The continued prominence of seed-stage deals in Africa's venture capital landscape lies partially in the surge in entrepreneurial activity being seen across the continent. The sheer breadth of pre-revenue startups seeking early-stage development capital has created a demand for seed financing in Africa.​
Series A and Series B had a combined total of 34 deals flows with larger ticket sizes valued at $418,635,000. Notable deals in these stages include the US$38 million Series B Nigerian E-commerce platform Sabi, the US$35 million Victory Farms a Kenya Aquaculture startups and the $34 million Series A in Peach Payments, a South African fintech startup enabling business payments.​
Late-Stage Funding​
Series C recorded 2 deals, raising $77.8 million to Tyme Bank a South African fintech startup and $ 58 million to Tabby an Egyptian fintech, while Series D had one deal of $260,000,000 raised by MNT-Halan offering a range of financial services to business organizations in Egypt. Companies in these late stages of funding are looking to take their product out of their home country and reach an international market. They may also be looking to increase their valuation before going for an Initial Public Offering (IPO) or an acquisition.​
Grants:​
Grants provision took third place with 64 deals valued at $26,549,850, grants are the most common types of financial support provided by Accelerator and Incubator programs helping to mitigate the risk of entering a "valley of death", the early-stage startups incur when they run out of capital before reaching product-market fit or gaining traction.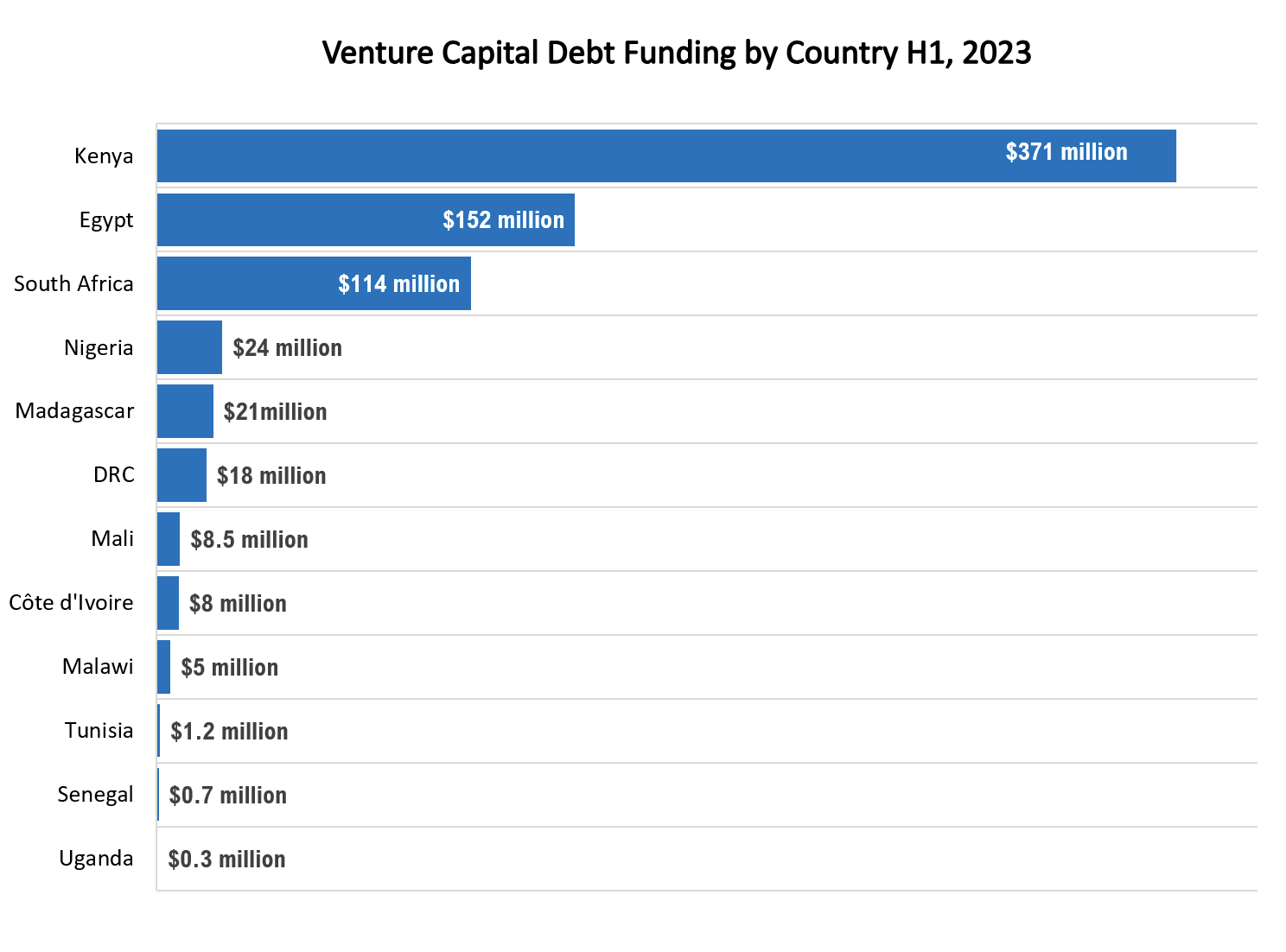 Source: DFP Internal Records 2023
Debt Financing:​
African startups have seen a big jump in venture funding through debt financing as opposed to traditional equity tools. Venture capital debt funding to had 30 deals with a value of $722,810,068.​ Some of the most notable African venture debt deals have been included in the continent's largest funding rounds H1, 2023, Kenya fintech startup M-Kopa raised $200 million in a round led by the International Finance Corporation, British International Investment and Standard Bank South Africa. Financial services company MNT-Halan from Egypt raised $140 million debt round it closed in February lead by Commercial International Bank (CIB), one of Egypt's largest private sector bank.​ A renewable energy home service provider in Kenya, Sun King raised $130 million in May from Citi, Norfund, FMO, British International Investment, ABSA Kenya, SCB Kenya and TDB.​ The reason debt financing is attractive to founders is that they can raise operational funding without necessarily having to give up more ownership of their startup. Debt financing is like a loan involving regular interest payments over the term of the agreement. Some debt can be converted to equity under certain conditions.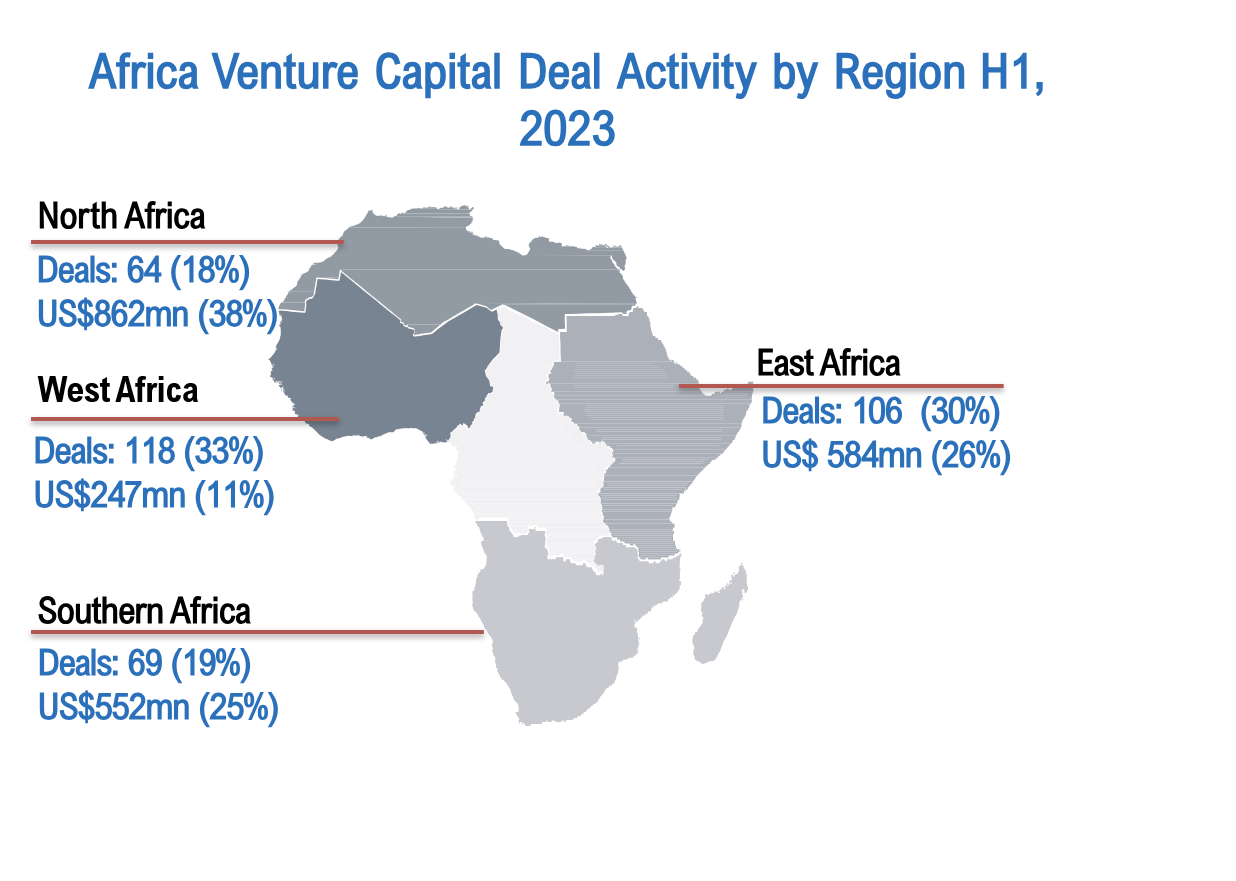 Source: DFP Internal Records 2023
West Africa:​
West Africa has attracted the highest volume (33%) of VC deals, maintaining the top spot for the last couple of years. While the region dominates in terms of the number of deals taking place, the value of funding raised by West African entrepreneurs lagged other regions, namely North (38%), East Africa (26%) and South (25%). ​Northern Africa region topped factoring in a few Egyptian super-size deals namely the US$400 Fintech MNT-Halan million Series D/Debt financing and the US$165 million raised by E-commerce startup Kazyon. Morocco was a big booster to the performance of the North region taking the top 5 countries in deal flows value raising US$172 million. Morocco has seen a rapidly growing number of startups each year, from a scant eight startups in 2016 to over 100 startups by the end of 2022, marking an increase of 60% each year. Of the startups, the marketplace sector is most popular with a 20% representation, followed by mobility at 14% and FinTech (Financial Technology) at 11%.​
East Africa:​
The East Africa region took the top second dominance in both deal volume (30%) and value (26%), of which 90% was contributed by Kenya raising US$529 million in 66 deals mainly attributed to two mega deals (the US$200 million M-Kopa debt financing and US$130 million Sun King Debt financing). Kenya is a hub for entrepreneurship and startup development in East Africa, with a growing ecosystem of innovative businesses and supportive infrastructure. One of the key drivers of Kenya's startup growth is our rapidly expanding digital infrastructure, Government support for a business-friendly environment and a young population that spurs innovation. Rwanda, DRC and Tanzania startup ecosystems are arising. These countries are putting in place strong institutions, enacted economic transformation strategies and thereby building a conducive business environment that enables entrepreneurship to flourish.​
South African​
Further south, Southern Africa's longstanding predominance as the region which saw the most deal activity came in third place by both deal volume (19%) and value (25%). 69 deals with a cumulative value of US$552 million. This can be attributed to the gradual wear and tear of South Africa's economy in recent years battling power cuts, unemployment which stands at 35%, and consumer inflation in the country hit its highest level in a decade. South Africa's grip on the venture ecosystem has loosened in the face of increased macroeconomic stability, competition, entrepreneurial innovation, and investment elsewhere on the continent, with the result being a drop-in regional deal activity for Sothern Africa. ​
North Africa:​
The North African startup ecosystem has been on the rise over the last few years with the number of deals in the region more than doubled since 2019. H1, 2023 it accounted for 18% of all investments into startups on the continent receiving US$862 million in funding ascending to the first position. Almost 20 percent of African tech startups are based in Egypt, and the vast majority in its sprawling capital of 10 million inhabitants. Egypt is Africa's tech hub and Cairo is its heart. Egypt's population of roughly 110 million provides ample opportunity for startups in need of customers or workers. Egypt was the key driver of these first half year 2023 figures mainly attributed to MNT-Halan ($400 million) and Kazyon ($165 million) mega deals. Morocco and Tunisia are taking second and third place in the North region by raising 8% of the total value investments. The startup ecosystem in the region is growing mainly driven by multiple factors including:
• High mobile and internet penetration in the region. According to GSMA Report 2022 shows the number of mobile internet users in MENA exceeded 300 million in 2021, with penetration of 50% of the population by the end of 2022.
• Governments initiating new ways to support startups, for example, Tunisia was the first country in Africa to introduce the "Startup Act", a legal framework encouraging startup creation and development.
• North Africa expansion to new markets within the region by launching operations directly or by acquiring active startups in the market of their interest. For example, Egyptian gaming startup GBarena expanded to Tunisia by acquiring another gaming startup Galactech in January.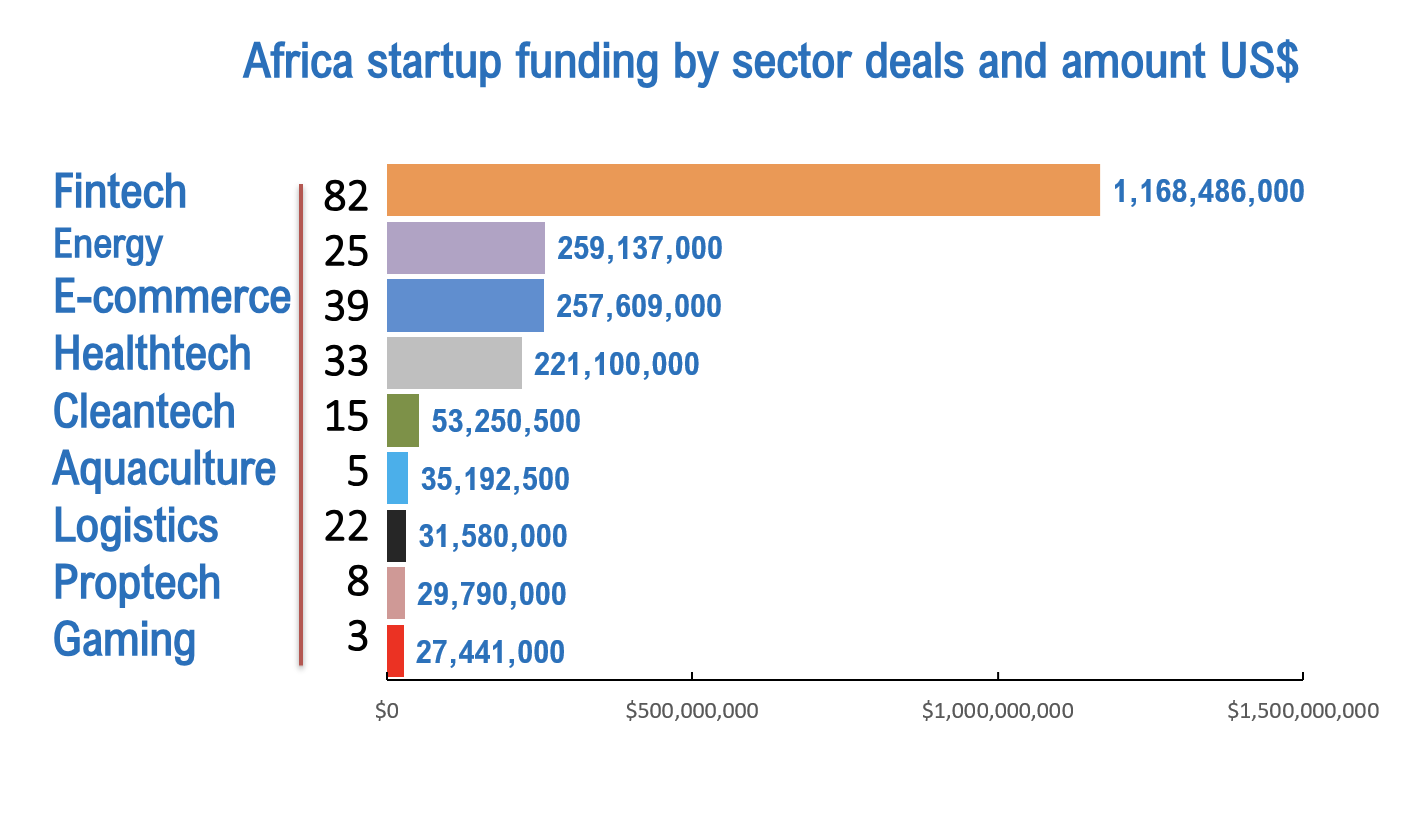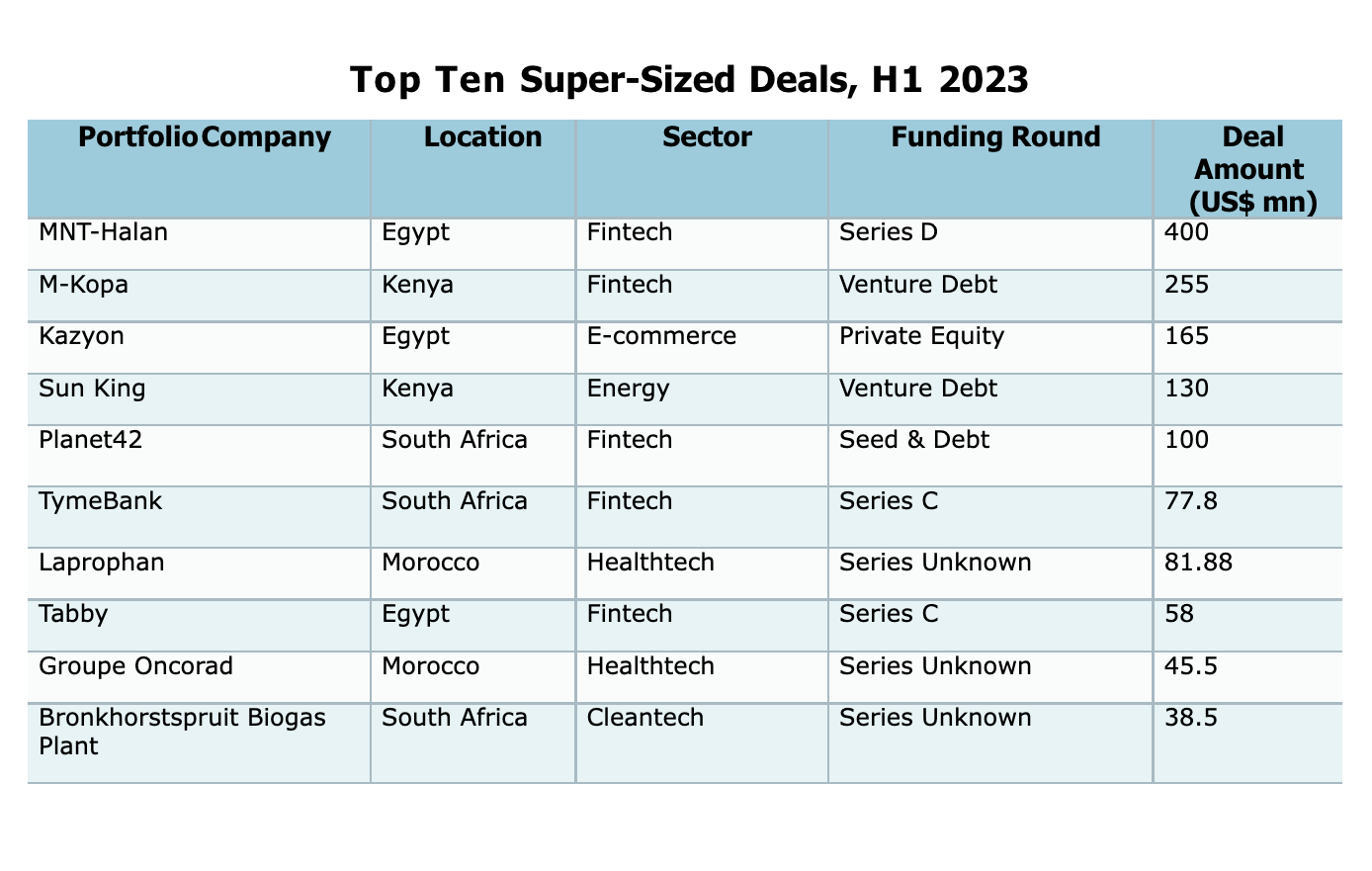 Source: DFP Internal Records 2023
Fintech as the most powerful force in African tech, with 82 fintech startups (23% of the total) raising an extraordinary US$ 1,168,486,000 – 52% of the continental total a 4 times more than the next biggest sector among the largest beneficiaries of fintech capital raised are MNT-Halan, M-KOPA, Tyme Bank, and Planet42. Tracking the funding for fintech in Africa over the years we would predict that it is only likely to increase with deepening mobile usage and internet penetration as it solves fundamental problems for the populace, is an area in which novel tech solutions tend to be well received and quickly adopted, as well as offering attractive returns for investors. However, the growth of the fintech space should not detract from positive developments in other sectors, such as Energy, E-commerce/retail-tech, and health-tech taking second to fourth places, respectively which are growing at a faster rate than fintech. With funding snowballing more quickly than fintech in areas such Agritech, cleantech and green climate tech we can expect to see fintech's lead further cut in the coming years.
Outlook of the 2nd Half 2023 African Startup Ecosystem
Investors would be interested in startups that emphasize sustainable growth, strong unit economics, and capital for growth rather than capital burning. Even if it's crucial to be aware of new trends, companies should put their major attention on their selected industries and clients rather than letting these trends influence them. While the future may appear uncertain, entrepreneurs who are able to remain flexible, adapt, and pivot to create companies that are prepared to capitalize on growth when it occurs are best positioned to succeed in 2023 and after. The general strategy for transactions and investments is probably more of a "wait and watch" strategy. While there has been some slowness, it has mainly been noticed in late-stage, larger-sized agreements, which presents opportunity for to early-stage investors, despite the slowdown.