African Startup Insight: A Q1 Report 2023  
Africa's big four which are: Nigeria, Kenya, Egypt, and South Africa accounted for much of Africa's startup funding. Egypt got the most funding – $492.7 million. South Africa followed in second place with $254.2 million, while Nigeria ($52.6 million) and Kenya ($42.8 million) rounded up the top four. Ethiopia, Ghana, Morocco, Madagascar, Uganda, and Malawi made an appearance, having cumulatively raised $93.5 million. Africa secured over $970M in disclosed deals in the first three months of the year.
The global economic downturn seems to have caught up with the Africa VC start-ups ecosystem which saw the funding and number of deals decline gradually in Q1 2023. We've recorded a decline of 36% in terms of the total amount raised. January and February saw a significant increase in both funding and deals, however, March turned out to be the lowest funding month since February of 2021. The effects of the global economic slowdown are creeping into Africa 2023 due to inflationary pressures and tightening monetary policy, which saw investors into the continent tread cautiously to the investment and African startups will continue to find fundraising challenging in coming months.
Central banks of the major African economies Nigeria, Egypt, Kenya, and South Africa surprisingly raising their main lending rates by a higher-than-expected rate to contain inflationary pressures together with adverse weather and climate change, food security, political instabilities, and the Russia-Ukraine war is waging heavily on the VC ecosystem across the African region. The operating environment for startups is therefore expected to worsen in the remaining part of the year, leading to a surge in layoffs, scaling down of activities, business shutdowns, and major investors continuing to pull back, making it harder for new and existing startups to raise capital. But despite this, the funding will be sustained.
Funding raised by startups in Africa Q1, 2023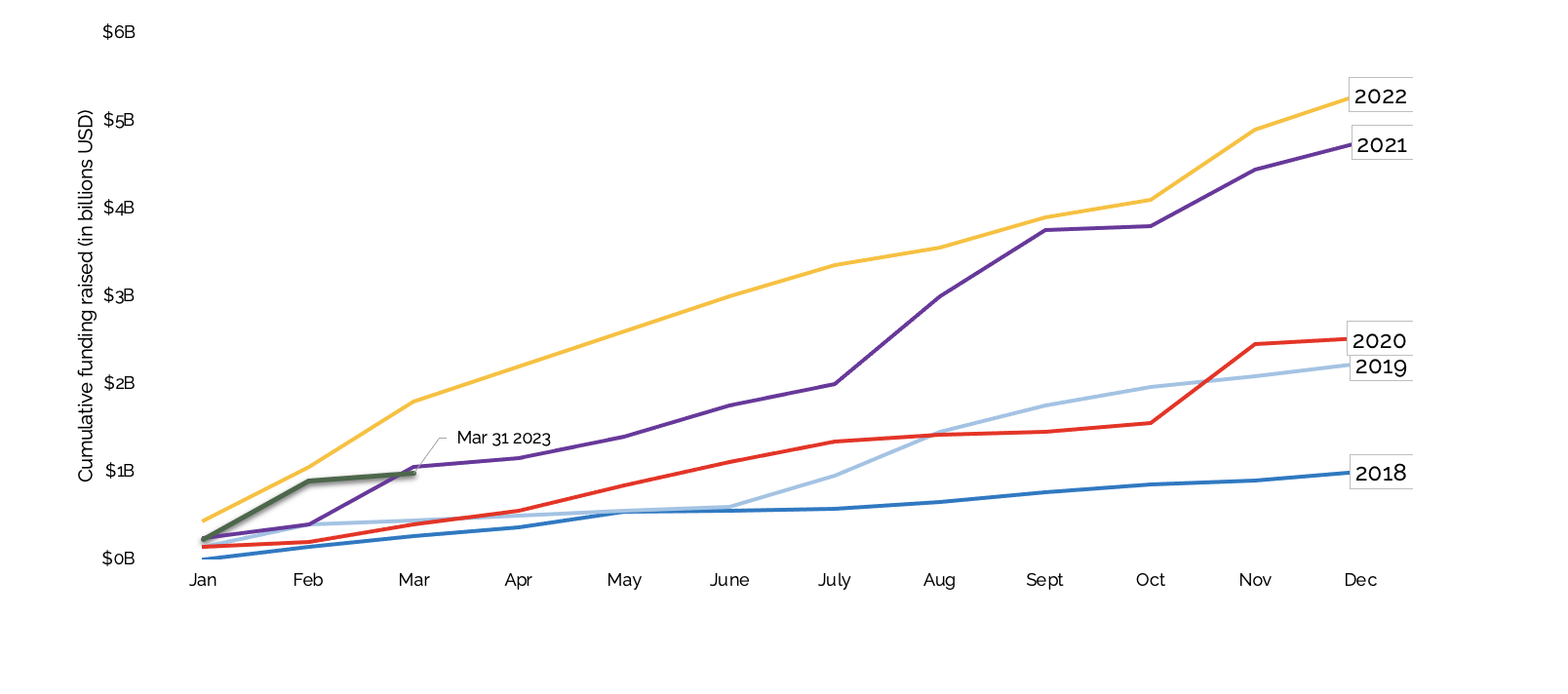 Source: DFP Internal records 2023
It's not all brink in Africa, which recorded the first Unicorn since November 2021 when Chipper Cash raised $150M in a Series C extension round that valued it at more than $2 billion. Appetite for Debt has also been witnessed in the same period with over $250 million raised. MNT-Halan, Yellow, Planet42, Hollydest, one pipe, and Qotto are among some of the startups that raised Debt rounds. Series B funding made an impact on the funding during the same period at $141 million. Fintech remains the most attractive sector and has raised more capital for the last 5 years and this period under review is not exceptional.
Fintech in 65% of the total funding. Energy and E-commerce are the next attractive sectors raising over $130M. According to the review by TechCrunch venture capital activity around Climate Tech will be a key focus going forth in Africa despite the global VC funding cooldown. So far, the continent's climate tech startups have secured over $860 million in equity funding for the last couple of years largely driven by clean energy technologies, representing 3.5x growth amid macroeconomic headwinds.
Pan-African venture firm Novastar was last week reported to be raising over $200 million for its third fund, Africa People + Planet Fund, which will invest in startups developing agriculture and climate solutions on the continent. Around the same time, climate tech venture capital firm Equator announced the initial closing of its fund to back seed and Series A startups in the energy, agriculture, and mobility sectors. Catalyst Fund's new climate-focused $30 million Kitty has also hit the ground running and is now investing in its first cohort of startups.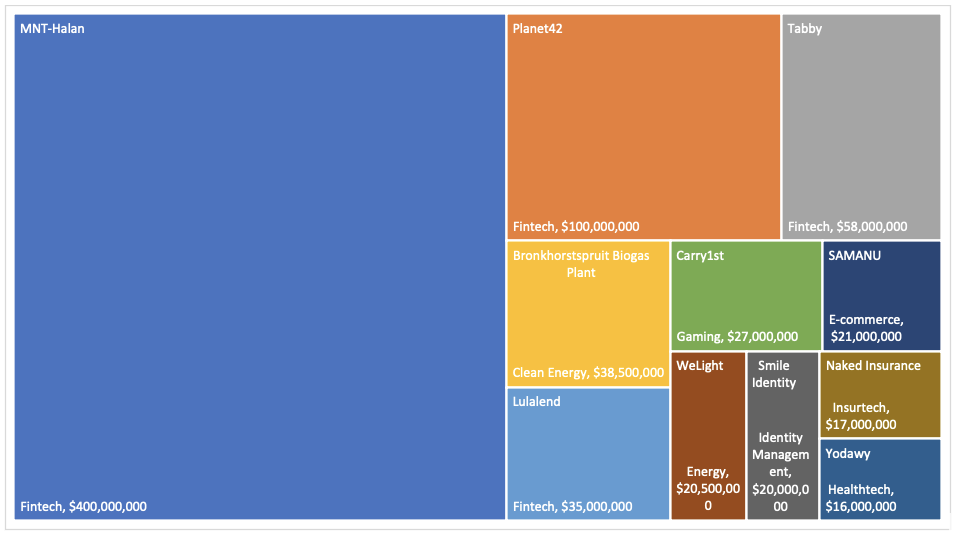 Source: DFP Internal records 2023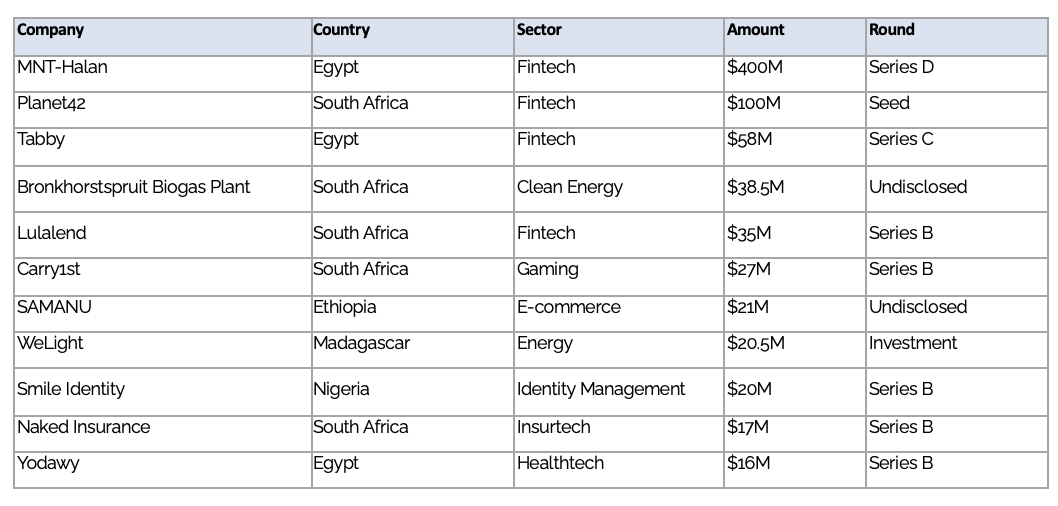 Source: DFP Internal records 2023
Fintech startups continue to attract far more investment across African sectors in Q1'23. Four among the eleven top-funded startups accounted for about 70% of investments in Q1'23. Fintechs in these top positions are in Egypt (1st and 3rd) and South Africa (2nd and 5th). The energy sector follows far behind with two startups among the top-funded startups (Bronkhorstspruit Biogas Plant & WeLight). Other startups on the list are in the following sectors: Gaming, Identity Management, E-commerce Insurtech, and Health tech. Again, eight of these top-funded companies are in Egypt and South Africa, while Ethiopia, Madagascar, and Nigeria have one each.
Number of Deals Investment by Stages Q1, 2023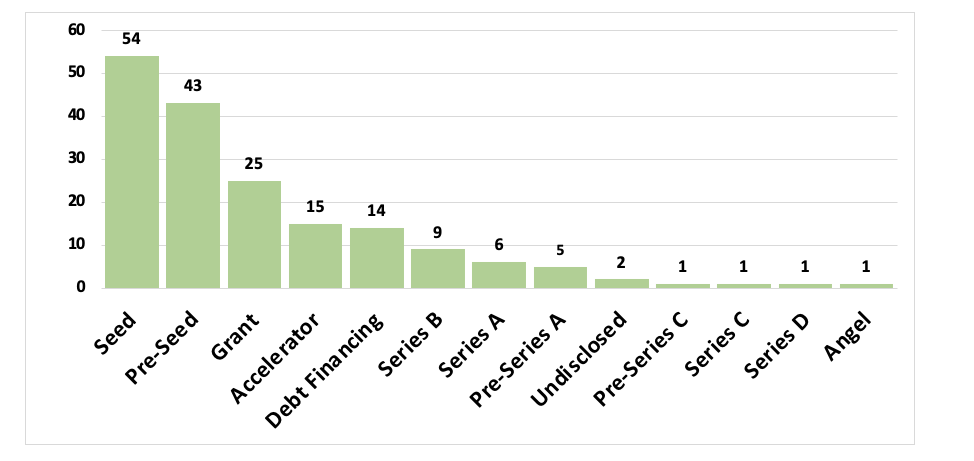 Source: DFP Internal records 2023
Among funding rounds raised by the 177 African startups in Q1 of 2023, 2 had undisclosed funding stages. Of the 175 disclosed funding stages, 30% were in seed rounds while 25% were in the pre-seed rounds. The predominance of seed and pre-seed rounds is an indication of the majority of the African tech startups that have been recently founded in the past years. Accelerator funding that is active in the pre-seed and seed funding of a startup's journey comprised 8% of the funding rounds.
Generally, activity at later stages was like that in 2022, however, venture stages (Series A and Series B) have had a slight change. Series B funding has surpassed Series A funding in contrast to the previous years. 13 deals equivalent to 7% of these funding rounds disclosed debt as part of their rounds. Later-stage startups specifically in the energy and fintech sector are increasingly able to take on debt funding. Additionally, the perceived risk of African tech startup investments indicates that companies remain more likely to raise equity capital.
Disclosed Monthly Startups Funding Q1, 2023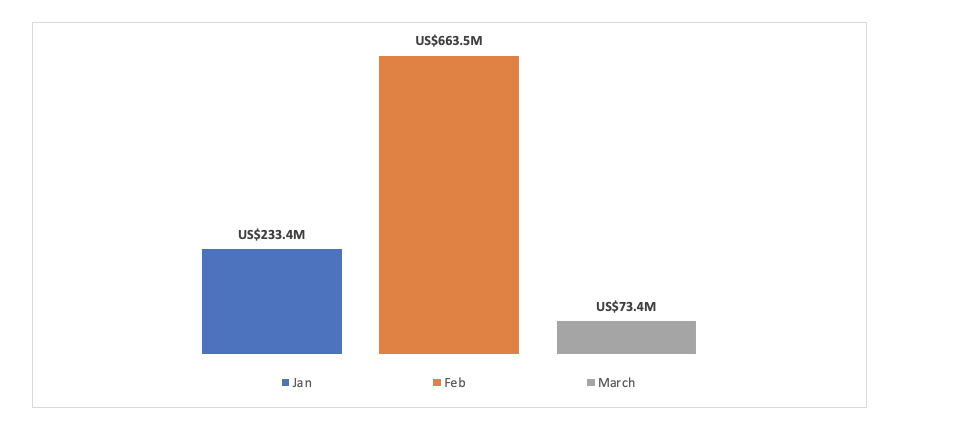 Source: DFP Internal records 2023
More startups raised capital in February than in January 2023. In February, there was a significant improvement, as 92 startups raised more than $663.5 million in 99 funding rounds. Egypt got the most funding with $492 million, South Africa followed in second place with $254.178 million, while Nigeria ($52.6 million) and Kenya ($42.8 million) rounded up the top four. Ethiopia, Madagascar, Uganda, Ghana, and Morocco follow in that order.
Amounts of Investment by Sectors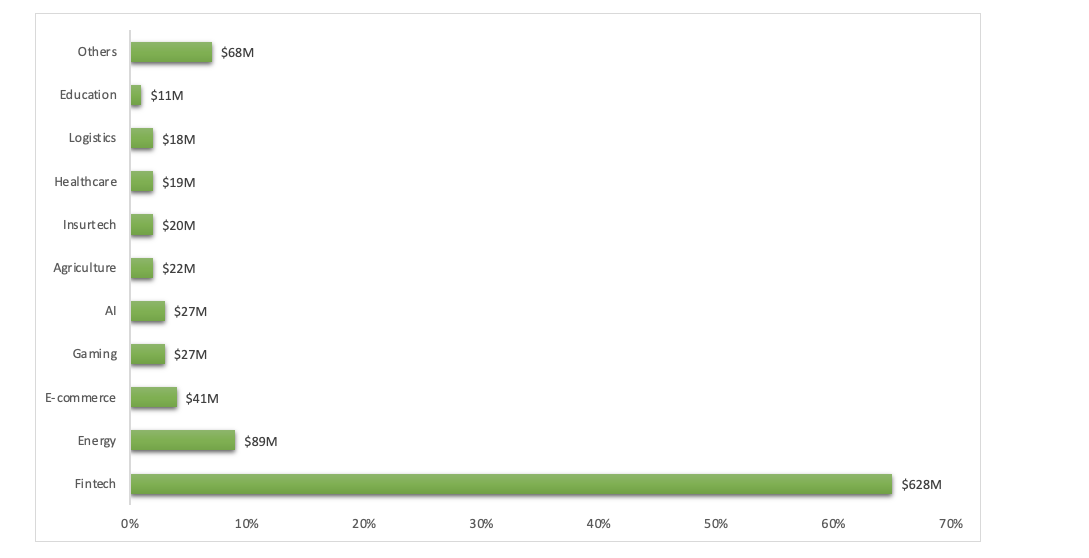 Source: DFP Internal records 2023
No other sector has raised more capital than fintech in the past five years, and Q1 of 2023 was no exception. Startups in the fintech industry raised $628.25 million and made up 64% of funding received throughout the three months. Startups in the fintech services space raised $228 million, well ahead of the Energy space in second place with $50.9 million followed by the E-commerce market with $41.14 million. Startups in E-commerce and E-health are growing at a faster rate than fintech. With funding snowballing more quickly than fintech in entertainment, marketing, transport, recruitment, Agri-Tech, e-commerce, and health, we can expect to see fintech's lead further cut in the coming years.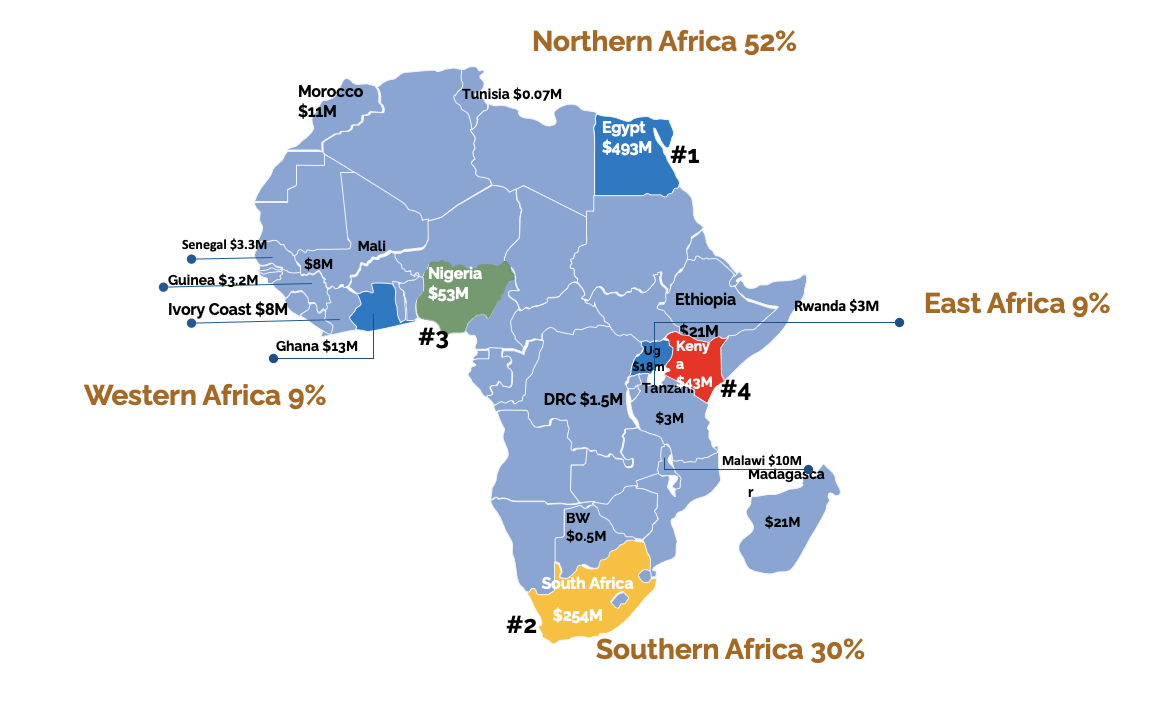 Source: DFP Internal records 2023
North African Startup Ecosystem Review​
Africa has been described as the next frontier for technology investment, with numerous firms in the continent making substantial progress in recent years. Yet, according to Disrupt Africa data, African digital entrepreneurs raised 57.2% less financing in the first quarter of 2023 than they did the previous year. Looking at the North African region, In Q1 Egypt is quickly emerging as a startup innovation and entrepreneurship powerhouse in the Middle East and North Africa (MENA) region, thanks to a combination of government assistance, entrepreneurial spirit, and a huge and more tech-savvy population.
The country boasts a thriving startup and investor community, with a variety of new products and services emerging in a variety of areas. Egypt is primed for major growth in the startup industry in the next years, thanks to an increasing number of programs geared at aiding businesses and a highly educated and tech-savvy workforce.
South African Startup Ecosystem Review​
The South African venture ecosystem has been advancing for the last decade and businesses of all sizes have been facing challenges and opportunities in equal measure. In 2023, Venture capital is becoming more dominant, with increasing venture capital funds focusing on local startups. These funds are providing much-needed capital to help startups grow and scale. In addition, venture capital is also helping to bring new technologies, such as artificial intelligence and blockchain, to the forefront. The slowing of the global and local economy is likely to mean a tougher 2023 for venture capitalists.
Last month, the Naspers Foundry, one of the largest venture capital funds in South Africa, wound down its operations of R1.4 billion (≈$100 million). However, on a positive note, there are still a lot more companies in South Africa raising capital from pension funds, development financing institutions, and other entities, with South Africa's, Pension Funds Act amendments, which came into effect in January 2023, could help increase investment in venture capital by allowing pension funds to allocate up to 45% investment in South African infrastructure projects, up from 30% previously. They also increase the number of assets pension funds can allocate to private equity to 15% (from 10% previously).
As the funding data for Q1 of 2023 South Africa's fortunes might be improving, South African startups raised $254.2 million, a 22% increase in funding. Fintech was the most funded sector in South Africa, with a mega deal of $100M coming from a fintech startup Planet42. According to Kalon Ventures CEO, a Johannesburg-based venture capital firm, "Seed investments are slowing down substantially as well, both in South Africa and Africa which is a worrying sign, because one can only get a company off the ground with that initial seed capital. Without it, it's hard to even start," Various ecosystem growth-enabling initiatives are underway, including a startup act, which seems to poise South Africa to retake its position as Africa's tech capital over the next few years.
West African Startup Ecosystem Review​
Africa's startup funding remains dominated by the big four; Nigeria, Kenya, Egypt, and South Africa. However, the West African Startup ecosystem has experienced a rather negative trend in Q1 2023 compared to Q1 2022 figures. Nigeria lost its top spot, dropping two spots among the African big four. Financial experts and investors attribute this trend to the global economic meltdown caused by strict monetary policies and inflationary pressures. The African startup ecosystems so far witnessed a decline in Q1 2023 against Q1 2022 with 36.8% lesser funding and 92 total deals compared to 130 deals in Q1 2022.
However, some African regions have had some remarkable developments. For example, Egypt now leads the big four growing by 277.8% and becoming Africa's most-funded country in the first quarter of 2023. The center stage in the West African startup sphere, Nigeria, shows some promising metrics of bouncing back in the coming months or years. A large part of this development is driven by substantial government funds rollout. A notable highlight is the Nigerian government's $618 million fund launch under the Digital and Creative Enterprises Program (i-DICE) to promote tech startups and digital innovation. Despite Nigeria's dominance in West Africa, active investors project that other regional countries, including Ghana, Côte D'Ivoire, and Senegal, have enormous growth and investor-attraction markets.
While the decline in VC funding for Q1 2023 may affect the year's overall funding as seen last year, Initiatives such as Nigeria's $618 million IDICE fund, Vantage Capital's mezzanine fund, and the emergence of many VC funds to be deployed in the coming quarters projects an optimistic outlook for the remaining year across West Africa and the African continent.
A recent development in early April 2023 is Shuttler's announcement of $4 million equity funding facilitated by Verod-Kepple Africa Ventures who signed an investment agreement with the Japan International Cooperation Agency (JICA) in March to fund start-up companies that create innovative solutions to social challenges in Africa, in areas such as financial inclusion, healthcare, and climate change. In addition, Verod-Kepple's $43 million pan-African fund and other African-focused VC funds may brighten Africa's 2023 funding outlook in the coming months.
East African Startup Ecosystem Review​
Much like the last quarter of 2022, Kenyan startups led in funding in East Africa, followed by Ethiopia, Uganda, and Tanzania. For disclosed funding, Kenyan startups raised 42.8M, Ethiopia raised approximately 21M, Uganda raised 18M, and Tanzania raised about 2.9 M. Fintech companies remain the most funded, followed by E-commerce, which is coming up quickly. The Agritech sector comes in third place because of the need to solve food insecurity- since most East African economies depend on Agriculture.
However, despite some positive trends, some startups need help keeping up and have either implemented staff layoffs or closed their business. Given the threats to economic growth within East Africa, experts predict the region's tech start-up sector can experience exponential growth by prioritizing and focusing funding allocation on investing in equipment, entering new markets, and developing products. Perhaps, this will brighten the overall landscape of East Africa in the coming months and years.
Conclusion
For the coming months, we predict a continued decline in equity investment. However, debt ventures may increase particularly in the fintech, e-commerce, and logistics sectors. Amidst the funding slowdown, investors are still bullish on fintech, particularly startups providing financial services, insurance, and SAAS. Investors are also keen to invest in AI, cleantech, and climate technologies that offer an unprecedented opportunity to create a better, more sustainable future. Additionally, investments are gradually increasing in the E-commerce, Health tech, Edtech, and Agtech sectors.
Despite the current challenges with raising funds attributed to the economic slowdown, investor conservatism, and lack of viable business plans, it is obvious that African entrepreneurs remain resilient and will continue to innovate and develop new business models to propel the sector forward. The challenge now is for investors to see the African tech ecosystem's potential and offer the necessary assistance for these firms to grow.